✔️ Prémium Hotel Panoráma Siófok ****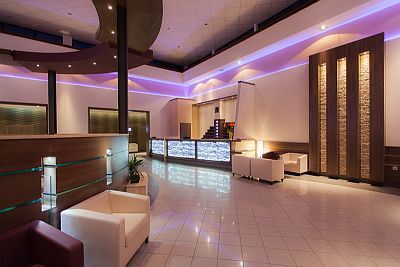 Premium Hotel Panorama**** Siofok - Wellness Hotel Panorama Siofok
The four-star resort hotel - Premium Hotel Panorama**** - is situated on the southern shore of Lake Balaton, the lake with the greatest surface in Central-Europe. It is located in Siofok on the Aranypart (Golden Beach) and it is only 1 km away from the city centre.
The Prémium Hotel Panoráma has got 148 fully equipped double rooms and 8 apartments. The rooms are equipped with telephone, minibar, SAT-TV, hairdryer and most of the rooms has got a balcony. Supplementary beds can be taken in for children under 12 years.
The restaurant offers a large choice of Hungarian and international dishes on its rich buffet table. The coffee-bar and the terrace await the guests with refreshing soft drinks and cocktail specialities.
Everybody is longing even more for a rest in the rush of the weekdays. Because of the everyday stress and the hard driven lifestyle people are tired, nervous and lethargic. The wellness services of the Premium Hotel Panorama**** help us to relax a bit after the worry of the ordinary days, and to gain new energy to be able to continue it.
For the active holiday-makers the hotel is ideal with its wide range of sport-services: swimming pool, sauna, infra sauna, steam-bath, aroma cabin, buzz shower, whirlpool, fitness room take care of everybody's health. It is also possible to rent a bike or surf in the hotel.
For those, who would like to be not only healthier but a bit younger too, we can offer the treatments of our beauty salon, our hairdresser's, the manicure and pedicure studio, the massage corner and the solarium.
Our further services can make your holiday more comfortable: closed parking lots, safe, playground in the garden and children's corner in the house.
The Premium Hotel Panorama satisfies all the demands of conferences, seminars, trainings, meetings and other events, too. The conference rooms are equipped with all the required techniques and they are as well air-conditioned as the restaurant.