Sándor Hotel Pécs**** ****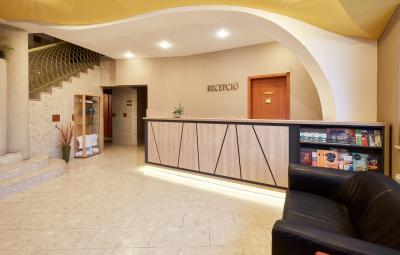 Hotel Sandor Pecs - wellness hotel in Pecs

Hotel Sandor is located in a beautiful environment near the historical centre of Pecs. The Széchenyi square and the World Heritage sites are only a few minutes away.
Hotel Sandor, thanks to its high quality services, the tastefully furnished rooms and the wellness services awarded the four-star rating in 2011.
Hotel Sandor awaits its guests with 38 air conditioned, comfortably furnished rooms.
All rooms are equipped with LCD TV, minibar, telephone, Internet access, bathroom with shower or bathtub.
The hotel offers a special room for the physically challenged guests.
Gastronomy:
Hotel Sandor has a restaurant friendly atmosphere and tasty meals. In the summer season the grill-terrace awaits the guests. From the rooftop terrace guests can admire a panoramic view of the city while they sip a refreshing drink or enjoy the tasty meals.

Wellness:
The wellness department of Hotel Sandor offers an indoor pool, a Finnish- and an infrasauna. For a fee, guests can also choose from our large variety of massages.

Conferences:
The hotel's restaurant and the conference room cand be opened together and can host a total of 60-70 persons offering the perfect place for reunions, weddings, birthday parties and meetings.

Attractions in Pecs:
City of Pecs offers perfect sightseeing opportunities. Many beautiful views, the historical downtown, many museums, the Zsolnay Quarter, the World Heritage Sites and the Cathedral of Pecs are all easily reached from the hotel.
Hotel services
Group reservation
hotel video
Price information
Cancellation policy
Családi csomag Pécsett a Sándor Hotelben (min. 3 night)

2020.06.10 - 2020.11.30
Családi csomag Pécsett a Sándor Hotelben (min. 3 éj) 16.650 Ft / fő / éj ártól / félpanzió / wellness használat / ingyenes parkolás / ingyenes wifi / 1 választható belépőjegy / Pécs térkép /
Nászút a város zöld szívében Pécsett (min. 3 night)

2020.06.10 - 2020.12.20
Nászút a város zöld szívében Pécsett (min. 3 éj) 13.820 Ft / fő / éj ártól / félpanzió / üdvözlőital / gyümölcstál bekészítés / wellness használat / ingyenes parkolás / ingyenes wifi /
Nyugdíjas akciós csomag Pécsett (min. 2 night)

2020.06.10 - 2020.12.20
Senior csomag Pécsett a Sándor Hotelben (min. 2 éj) 13.475 Ft / fő / éj ártól / félpanzió / üdvözlőital / wellness részleg használat / ingyenes parkolás / ingyenes wifi /
Wellness napok a Sándor Hotelben Pécsett (min. 2 night)

2020.06.10 - 2020.12.20
Wellness napok a Sándor Hotelben (min. 2 éj) 13.225 Ft / fő / éj / ártól / félpanzió / wellness használat / ingyenes parkolás / ingyenes wifi /