✔️ Hotel Nemzeti Budapest ****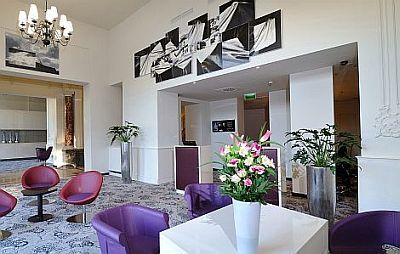 Hotel Nemzeti MGallery Budapest **** (earlier Mercure Budapest Nemzeti)
MGallery is a special collection of upscale hotels, where guests are awaited with tailor-made, exclusive services. The first MGallery Hotel of Hungary, Hotel Nemzeti (earlier belonged to the Mercure hotel chain) awaits its guests wishing for authentic experience from the end of 2012. The newly refurbished Hotel Nemzeti offers a harmonic balance between boldness and tradition, past and present, elegance and strength.

Hotel Nemzeti Budapest MGallery - Location:
MGallery Budapest Nemzeti, built at the turn of the last century, is situated in the business and shopping centre of Budapest, with easy access to cultural and tourist attractions.
Hotel Nemzeti Budapest MGallery - Rooms:
MGallery Hotel Nemzeti has 80 sound-proof rooms with air-conditioning, bathroom, LCD TV with international channels, phone, coffee and tea facilities, minibar, safe and free internet access.
The rooms were built using the most modern interior design approaches and upscale bedding concept. Our 2 suites have unique decoration and commemorate the most famous Hungarian characters of the artistic life of Budapest.

The hotel is 100% non-smoking, smoking is forbidden on the whole territory of the hotel, including the common areas, the terraces and the rooms.
Hotel Nemzeti Budapest - Gastronomy:
Old-fashioned restaurant with gallery: offering Hungarian and international specialities for up to 120 people, open 12.00-23.00 with live music in the evenings.
The Lobby Bar offers alcoholic and soft drinks, coffee, ice-cream and sandwiches.
Meeting facilities:
Hotel MGallery Budapest has 3 meeting rooms with a max. capacity of 125 people. The restaurant is perfect for organizing receptions, company and other functions. Business lunch available (menu or buffet with hot and cold dishes).
Local sights:
National Museum, Museum of Applied Arts
Other hotels in Budapest operated by the management: