✔️ Boutique Hotel Center Kecskemét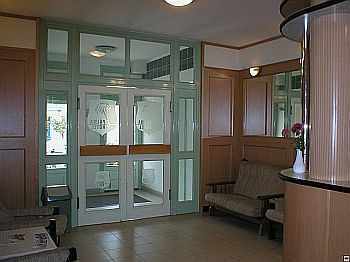 Boutique Hotel Center - Kecskemet
The Boutique Hotel Center - Kecskemet is situated in the centre of the city, close to the main square and the railway station.
The hotel offers 32 rooms and 2 flats.
The 20 first category rooms have shower, toilet, fridge and TV (35 channels). Six of them are furnished with double beds and there are 14 rooms with separated beds. Some rooms have extra bed facility.
All second category rooms (12 triple rooms) are in the roof conversion, have shower and toilet, but don't have TV and fridge. These rooms, due to their lower room rates, are suited especially for groups. Extra beds are available.
In the building of the hotel there are 2 flats for groups.
Flat I. - 3 rooms (2 rooms with 3 beds and 1 room with 5 beds) for 11 persons
Flat II. - 4 rooms (2 rooms with 3 beds, 1 room with 4 beds and 1 room with 7 beds) for 17 persons altogether
The hotel provides rich continental breakfast with milk, coffee and tea for guests.
The Hotel has an underground garage.
Inside the hotel's building there are 2 meeting rooms that are suitable for 15 and 40 persons. In the neighbourhood there is an air-conditioned conference room with a max. capacity of 150 persons.