✔️ Charles Apartment Hotel ***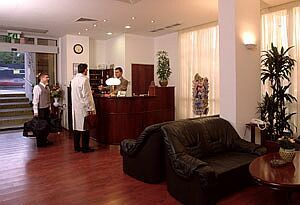 Charles Apartment Hotel***
Charles Hotel and Apartment can be found in Buda-side of Budapest, at foot of Gellert Hill with excellent traffic. The downtown and the subway can be reached with a 3-minute ride on bus, arriving every five minutes almost the entire day. Guests, arriving from the M1/M7 highways can reach the hotel 2-4 minutes from the boundary of the city.
The apartment hotel offers standard and delux studios.
| | |
| --- | --- |
| Standard studios (48) have a size of around 32 m2. Entering the hall the kitchen is to the left and the bathroom to the right, the room is straight ahead. The rooms have international telephone line and television set. The hotel has a dish antenna system of its own, so Hungarian programs and English, German, Italian, Russian, French, and Spanish programs are available as well. | |
| | Delux studios (17) were created in the winter of 1999 by rebuilding standard rooms, so their size is identical to the standard rooms. However, they seem much more spacious, because the kitchen, the hall and the room are in a single air-space. The kitchens and bathrooms of the delux studios were created using the highest quality materials and they satisfy every demand. |
| The kitchens are equipped with plates, dishes, cutlery, glasses, and the refrigerator which serves as a minibar as well. | |
The Hotel's János Restaurant is open every day from 12-24 offering traditional Hungarian dishes and international culinary specialities.
Prices include a buffet breakfast consisting of the following: non-sweet baker's ware (6 types), sweet baker's ware (6 types), salami, sliced ham, paprika salami, cheese (3 types), scrambled eggs, fried bacon, sausages, vegetables, fruits, cereal (3 types), butter, jam, honey, yoghurt (3 types), coffee, milk, tea (8 types), 100% orange juice.
In the business-center you can send your emails, surf on the internet on a high speed. Some of the rooms are equipped with online internet-access.
Hungary, Budapest, 3-star hotels, 3 stars hotel, apartments, apartment