✔️ Hotel Azúr Siófok ****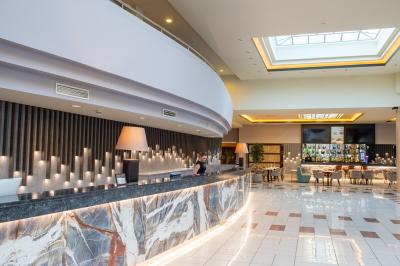 Hotel Azúr Siófok **** conference and wellness Hotel Azur Siofok- Hungary Balaton
The 4-star Hotel Azur is the largest wellness and conference hotel of the Balaton region open all year round.
Hotel Azur is situated in the heart of the fastest developing city of the region, Siofok, directly on the shores of Lake Balaton, on 6 hectares of parkland with its own sandy beach.
The wonderful Mediterranean style hotel, situated in three buildings, has 222 air conditioned balconied rooms equipped with extras, of which 18 are luxury suites with their own sauna, jacuzzi and sitting room for private discussions.
All rooms have balcony, television with movie channels and are equipped with a Wi-Fi internet-connection, a safe, hairdryer, minibar and air conditioning.
An extra bed can be added to some rooms in the form of rollaway sofas that open up into comfortable beds or cot beds for our smallest guests.
We have 48 smoking double rooms (connectable into a family room), 36 doubles, 120 twins, of which an extra bed can be added in 48 rooms, and 18 suites with non-smoking and hypoallergenic options.
All beds have therapeutic mattresses, which, together with the hypoallergenic pillows and duvets, guarantee your optimal and healthy sleeping comfort.
The hotel's equipment fully meets all fire and safety requirements; all rooms are equipped with smoke alarms.
Hotel Azur's internationally renowned chef and his excellent team ensure culinary pleasures: in addition to seasonal specialties, traditional Hungarian cuisine and international fare, our guests can choose from a wide variety of fitness, wellness and organic foods all served at five different dining facilities: a restaurant, terrace, grill and beer bar.
Our a la carte and buffet menus include traditional flavours, such as grandma-style pies, as well as the exotic tastes of the East, with a predominance of Mediterranean cuisine. (Please take a look at our menu.)
The rich buffet breakfast includes healthy and reform foods, as well as the entire array of classic English, American and continental breakfast and more than that.
In the Heineken terrace next to the Korinthos restaurant you can enjoy a bit of Caribbean atmosphere under the palm trees.
What do you need for a first-rate summer evening? Good weather, good company and cold beer.
Hotel Azúr Siófok is also the largest conference and wellness centre of the region, equally attracting those wishing to relax and business travellers. The conference division, which is uniquely equipped in the region in terms of technology, thus confers a central role to the Hotel in business life.
The hotel's Wellness Centre ensures the rejuvenation of body and soul. The purpose of our relaxing and refreshing programmes is to allow our guests to completely forget the negative effects of their everyday life and stress during their stay with us. The nearly 1000 m2 water surfaces of the bathing facilities of the wellness centre afford excellent opportunities for relaxation, rejuvenation and recreation.
The sandy beach and the unique park with ancient trees spread calmness that will surely help to forget the rush and stress of everyday life.
You can relax taking a stroll (or jogging) in our six hectare park and on the shores of Lake Balaton. Our modern Wellness Centre, where you can also rest and relax, is closely linked to the park.
Outdoor and indoor amusement pools, a thermal pool, jacuzzi and two children's pools serve bathers who can also enjoy the benefits of Finnish saunas, steam bath, aroma room, salt room and Kneipp stepper. Use of the thermal pool is not recommended for children under 12.
The hotel renews its offers and promotions each season to serve our guests better.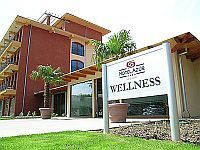 ✔️ Őszi akciós wellness napok a Hotel Azúrban (min. 2 night)

2023.11.06 - 2023.12.22
Őszi akciós wellness napok a Hotel Azúrban (min. 2 éj) 28.000 Ft / fő / éj ártól / szállás / félpanzió / wellness spa használat / fürdőköntös használat / ingyenes wifi /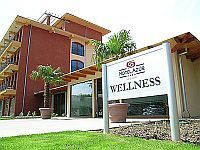 ✔️ Szombati szieszta Siófokon a Hotel Azúrban (min. 1 night)

2023.11.06 - 2023.12.22
Szombati szieszta Siófokon a Hotel Azúrban (min. 1 éj) 33.850 Ft / fő / éj ártól / szállás / félpanzió / vasárnapi ebéd / wellness spa használat / fürdőköntös használat / vasárnap késői kijelentkezés / ingyenes wifi /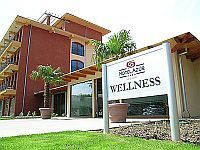 ✔️ Szilveszter az Azúr Hotelben Siófokon (min. 3 night)

2023.12.29 - 2024.01.02
Retro Szilveszter az Azúr Hotelben Siófokon (min. 3 éj) 56.170 Ft / fő / éj ártól / félpanzió / wellness használat / exkluzív szilveszteri vacsora / szilveszteri programok / fürdőköntös használat / ingyenes wifi /