✔️ Grand Hotel Galya Galyatető ****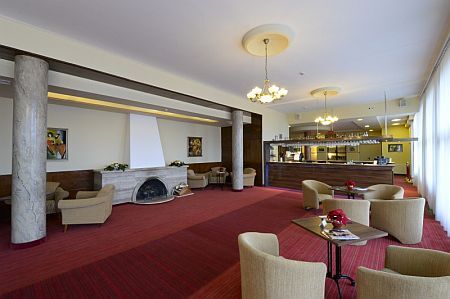 Grandhotel Galya **** Galyateto - Matra ~ Wellness hotel in Galyateto
Galyateto lies at the second highest point of the Mátra Mountains, 956 metres above sea level. Its mild sub-alpine climate and crystal-clear fresh air have a health-giving effect, which is combined with a yearly number of hours of sunshine much above the national average. Grandhotel Galya was built in 1937-39 in this wonderful landscape, at the centre of a lovely, 5 acre park, surrounded by forests.
Room information:
The hotel has 129 rooms that are offering variety for accommodation: 9 deluxe rooms including the Honeymooner suite with fireplace and jacuzzi, 5 suites with bath tube, 3 family rooms, 27 superior double rooms with bath tube, 85 classic double rooms with shower, all with hair dryer, minibar, telephone, satellite programmes, Internet connection, Pay TV, HBO and most of them with balcony and panorama view are waiting for the guests. The comfortable and tasteful furniture provide maximum convenience.
Dining and entertainment:
The elegant Restaurant Panorama and the rustic Restaurant Mátra await our guests with a wide range of meals - Hungarian and wild specialities. There is a lovely bar in the hotel with live music in the evening (Friday or Saturday). On the vast terrace and in the park the guests can spend the utmost sunny hours enjoying the view of the nature, taste the tastes of the spectacle cuisine.
conference opportunities:
Grandhotel Galya can be the venue of your following conference. The fresh air makes your brain storming at each meeting. The conference opportunities are meeting the requirements of all kind and advance the success of the event. The delegates of the conferences can enjoy all inclusive services and can attend to outdoor training as well.