✔️ Gida Udvar Biatorbágy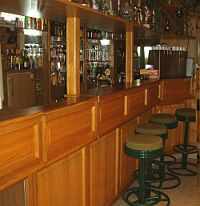 Gida Udvar - Fawn Courtyard
Access
Biatorbágy lies 20 kilometers away from the centre of Budapest, in pleasant environment. The village was formed by the union of the villages from Árpád's age Bia and Torbágy in 1966.
Biatorbágy can be easily reached by car or by bus: from Wien from highway M1 you have to take the Zsámbék exit on your right and then, after crossing the main road n.1, you have to take the road by the fishing lake and go straight ahead until you get to Gida Udvar.
Railway station: 3 km
Ferihegy Airport - 35 km, Budaörs Airport - 5 km.
Rooms
The pension offers 6 double rooms (11-14 m2) and 2 apartments (14 m2) upstairs.
The apartments - with 2 rooms - are suitable to accommodate 3 persons. All rooms have bathroom with shower and toilet, colour TV and telephone. Extra beds are available. Two of the rooms have balcony. The rooms are cleaned every day. Pets are welcomed.
Dining
The pension's restaurant - max. 200 persons - is open from 07:00 till 22:00. Here you can have your breakfast between 07:00-10:00, and you can consume your lunch or dinner on request. The drink bar offers alcoholic and soft drinks.
Bath
In the basement of the building you can find the pension's bath in Roman style. The water of the swimming pool has a temperature of 26°C. The pension's other pool (34°C) is recommended to the guests who wish to relax and to have a rest. Hydro- and air-massage, sauna and solarium are also waiting for you.
Meeting facilities
The pension's courtyard is a perfect place for organize any kinds of events, for example wedding ceremonies, concerts, birthday parties …
The conference room - with a max. capacity of 60 persons - is suitable for meetings, conferences, as well as trainings, seminars and receptions.
Program facilities
In the nearby: tourist routes on the Tétény-Sóskút plateau, fishing pond that is ideal for angling, riding, hiking.
Pannónia Golf & Country Club in Alcsútdoboz, Máriavölgy (10 km)