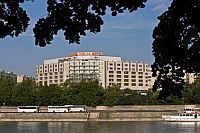 ✔️ Danubius Thermal Hotel Helia Budapest
1133 Budapest, Kárpát u. 62-64.
Phone: 00-36-1-2279614
Hotel video
Danubius Health Spa Resort Hotel Helia - Thermal Hotel Helia Budapest: 4-star thermal & conference hotel on the banks of the Danube in Budapest. Offers a wide range of diagnostic and therapeutic services and perfect facilities for entertaining. Banquet and conference services for intimate meetings and major functions. Budapest Thermal hotels 4 star hotels online booking.