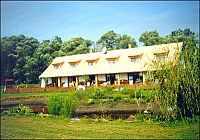 ✔️ Lovas Panzió
8360 Hévíz, Lótuszvirág utca 3.
Phone: 00-36-1-2279614
Hotel video
The riding pension - with a qualification of 3 horseshoes - recommends riding tours for skilled riders and training courses for beginners. Attractive and quiet surroundings, Hungarian cuisine, well-trained horses and German speaking staff await the guests. The world famous Hévíz Thermal Lake and Health Spa is only a few minutes walk from the pension.