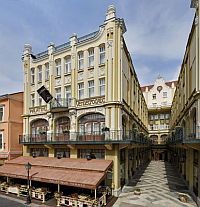 ✔️ Palatinus Grand Hotel Pécs
7621 Pécs, Király út 5. 
Phone: 00-36-1-2279614
Hotel video
The best location in Europe's Cultural Capital! Let's visit Pecs! Standing in the main square of the pretty city of Pécs (Capital of Culture in 2010) in south-west Hungary, Grand Hotel Palatinus*** is a stunning fin-de-siècle hotel and the ideal base for a stylish, cultural holiday. Its elegant restaurant, grand ballroom and magnificent Art-Nouveau lobby have long made it a favourite with dignitaries and other famous guests. The town of Harkany that is famous for its medicinal water is only 20 km.