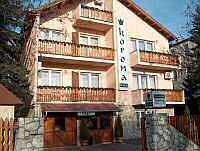 ✔️ Korona Panzió Budapest
1112 Budapest, Sasadi út 123. 
Phone: 00-36-1-2279614
Hotel video
First class pension in the green area of Budapest, only 10 minutes from the city center. Here you can find everything you need: various types of rooms, 4 apartments with kitchen, guarded parking area, restaurant and relax facilities are awaiting the guests. Budapest, Hungary, pensions, online booking.