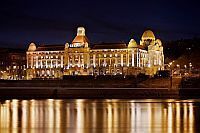 ✔️ Hotel Gellért Budapest
H-1111 Budapest, Szent Gellért tér 1.
Phone: 00-36-1-2279614
Hotel video
The 4-star thermal hotel Danubius Hotel Gellert located in the centre of Budapest, overlooking the Danube, is waiting for the guests who are looking for a traditional Grand Hotel with classical style. The spa hotel offers various types of rooms, 24-hour secured parking, thermal bath & spa and business centre. Hungary Budapest 4 star hotels online booking. Danubius Hotel Gellert is located at the foot of Szabadsag bridge, 300 metres from the Vaci street.