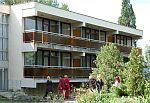 ✔️ Hotel Boglár
8630 Balatonboglár - Balaton - Kodály Zoltán út 9-15. 
Phone: 00-36-1-2279614
Hotel video
3-star resort hotel located in the holiday zone of Balatonboglar, directly on the southern shore of lake Balaton. Hotel Boglar, surrounded by a green park, awaits its guests with double rooms, apartments and a hotel restaurant. The hotel is an ideal venue for family holidays: in the high season animators improve the entertainment and the settlement also awaits its visitors with colorful and exciting programmes.